International TA Program
Teaching assistants play an important role in the educational experience at Georgia Tech. With their disciplinary expertise and intercultural competencies, international teaching assistants (ITAs) bring a unique set of skills to this position. At the same time, supporting student learning in a new language and academic culture is challenging. To ensure international graduate students are prepared and supported in their TA role, the Board of Regents requires Georgia Tech to "assess competency in English and, if needed, provide training in English language proficiency." Georgia Tech has adopted the following procedures to address this policy.
Oral Proficiency Assessment
International graduate students who come from non-English-speaking countries are required to submit TOEFL scores for admission to Georgia Tech. While subscores of 19 are the minimum admissions standards, a score of 26 on the speaking subscale (or 8.0 on the IELTS) is commonly accepted as the minimum qualification for a teaching assistantship. For those students below 26, a secondary oral proficiency assessment is administered to better gauge the students' preparation for a teaching assistantship.
The International TA screening assessment was developed by TESOL experts to assess prospective ITAs' ability to communicate with sufficient accuracy and interpersonal communicative competence to successfully work with undergraduate students at Tech.
This assessment is administered via web conference in the semester prior to the students' arrival on campus, and is scored on a standard rubric by a trained TESOL expert. The results of the assessment are communicated to the student and the student's academic unit at Tech to be used to determine the ITA's development needs.
Course Support
The screening assessment will be used to refer ITAs for enrollment in CETL 8802, International TA Development, a language and culture support course, as well as to determine follow-up professional development as needed.
The assigned course should be completed in or before the first semester of the ITA assignment and will be required for continued assignment to TA positions. For Fall 2020, International TA Development will be delivered as a two-credit hour, 10-week course through the Center for Teaching and Learning: CETL 8802.
Serving as a TA can be an exciting and challenging opportunity for any graduate student. International graduate students have unique needs as they begin these new responsibilities, often in a new language and a new educational culture. Through assessment and support, the International TA Program ensures international TAs are prepared for success in this role.
---
ITA Liaisons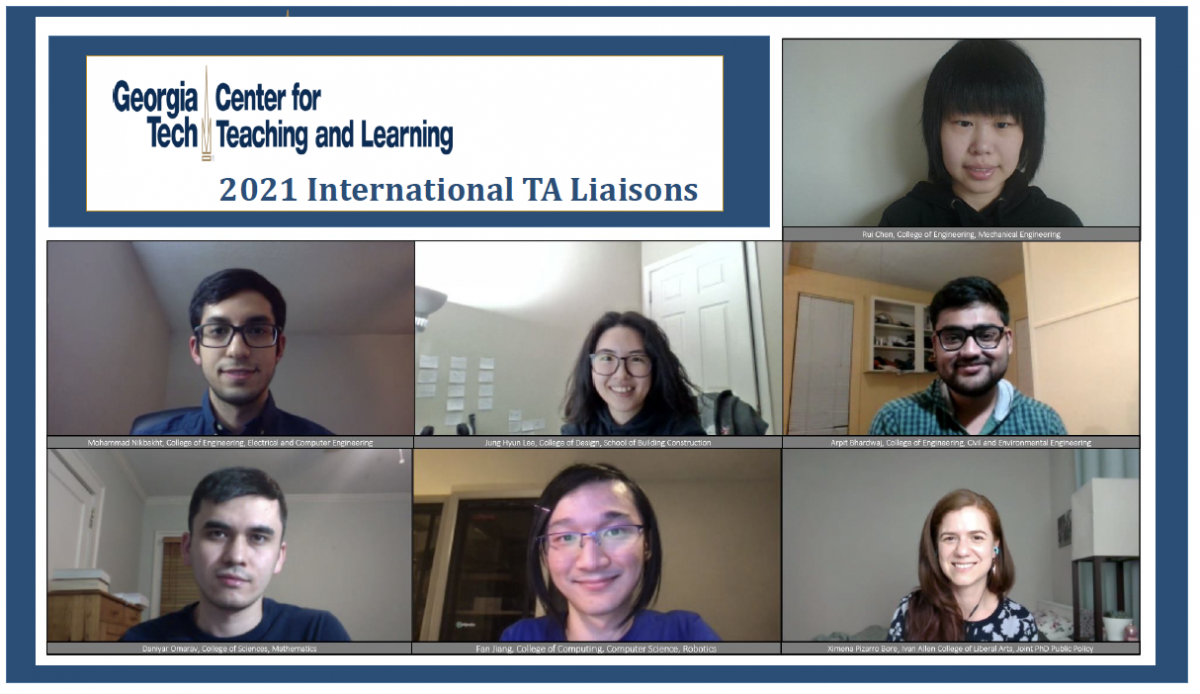 The Center for Teaching and Learning (CTL) is pleased to announce a new leadership initiative, International TA Liaisons for CTL. This pilot initiative offers experienced international graduate teaching assistants (ITAs) a significant leadership role in their colleges and the opportunity to create a support network among their peers.
"Creating this new partnership with international TAs is an extension of the hub-and-spoke model that CTL created with the Provost Teaching & Learning Fellows (PTLFs) and the Graduate Teaching Fellows (GTFs)," says Joyce Weinsheimer, Director of CTL. "We hope this initiative will strengthen the voices of ITAs in our campus conversations and give greater visibility to the diversity and contributions they bring to our campus. I am excited about this new connection between CTL, the ITAs, and the Colleges."
The Spring 2021 cohort represents five colleges--Design, Computing, Engineering, Ivan Allen, and Sciences-- seven schools, and a variety of national cultures. In addition, each ITA liaison has completed CETL 8802, Special Topics in ITA Development, and has already successfully served as a TA in his or her respective school. The pilot program is being facilitated by Sarah Kegley, ITA program manager for CTL.
Along with their collaboration within the cohort, ITA Liaisons will engage as leaders in their own schools. How? Bydesigning a framework developed from individual experience, each member of the cohort is working on something significant to him/her and addressing a need that she or he chooses to highlight.
"We are excited to work together in this initiative; we can support each other and incoming ITAs in distinctive ways that may not occur to others," says Ximena Pizarro, a Ph.D. student in Public Policy.
Mohammad Nikbakht, a Ph.D. student in ECE, adds, "If I had known then what I know now! I think we can help incoming ITAs with this experience."
Congratulations to the following ITA Liaisons for CTL!
Arpit Bhardwaj, Civil and Environmental Engineering
Rui Chen, Mechanical Engineering
Fan Jiang, Robotics Institute for Robotics and Intelligent Machines, Robotics PhD
Jung Hyun Lee, School of Building Construction
Mohammad Nikbakht, Electrical and Computer Engineering
Daniyar Omarov, School of Mathematics
Ximena Pizarro Bore, Joint PhD Public Policy
---
Sorry we missed you!
SPRING 2021 Workshops
International TA Workshop Series: Building Teaching Mentor Relationships
This workshop series aims to empower international TAs [ITAs] as they build relationships with mentors and colleagues here at Georgia Tech, and will include activities and discussions around managing relationships with your teaching mentors, developing effective relationships with students, and opportunities to converse with fellow ITAs from institute-wide. You are invited to attend one or all sessions!
Session 1: Friday, February 5 at 4:00 pm EST - Establishing a Good Relationship with Your Teaching Mentor
Session 2: Friday, February 19 at 4:00 pm EST - Soliciting Feedback and Asking for Help
Session 3: Friday, March 5 at 4:00 pm EST - Developing Successful Relationships with the Students
Session 4: Friday, April 2 at 4:00 pm EST - Growing from Lessons Learned and Celebrating Successes
---
Questions about the ITA Program or assessment procedures should be directed to Sarah Kegley with the Center for Teaching and Learning at skegley3@gatech.edu
Important Guidelines
International graduate students who wish to be appointed as teaching assistants (TAs) should be screened for readiness to use English in a teaching role.
Note: In accordance with current university policy, all TA screenings will be conducted remotely using a free web conferencing platform (such as BlueJeans). You will need a microphone and camera. Screenings are offered on a rolling basis.
The most important factor for the ITA screening is confidence and command of the appropriate level of speaking and listening proficiency to take on the challenging responsibilities of teaching in academic English within the Georgia Tech environment. Students who believe they need extensive language training (in writing and/or speaking and listening) are strongly encouraged to contact the Georgia Tech Language Institute at https://esl.gatech.edu/ for more options.
About the Screening
This half-hour English screening involves the following three components:
Introductory question/answer segment.
Sample delivery of a field-specific concept.
Simulation of an office-hour interaction between a TA and student with follow-up questions.
During the screening, the prospective TA's accuracy, fluency, and communication style are evaluated.
No advance preparation is needed. The result of the exam, along with recommendations, is given to the student and the student's departmental TA coordinator.
Retesting prior to fulfilling the requirements is normally not allowed until at least one semester has passed, and students may ask to be retested only once before fulfilling their requirements.
Questions about the International TA Program and assessment procedures should be directed to Sarah Kegley at skegley3@gatech.edu.